"In an hour? You're kidding me!!!"
Yup, in an hour! You can possibly start your own blog site in an hour. But first, let me guess how you bump into this post. You have been looking around for some time now on how to make MORE money than you are doing from your existing job or you want to make a living from the comfort of your home or wherever you feel comfortable while doing the role of a wonder mom.
Yes, you know it's not really hard to guess because I, myself also been dreaming about that and almost all the stay at home moms would want that lifestyle but not all of us know how to start, now I call you lucky to be reading this full-packed information on how to start your own blog site and the challenge here is to do it in just an hour! I laid out the shortcuts since I've already done all the mistakes for you and now to teach you what I have learned from those mistakes. However, you have to decide if blogging is for you, you may ask yourself these questions:
The first question you would ask yourself is: "Should I start a blog?"
Your answer to this question will open your mind into a more larger role. First, you need to know from your deeper soul if you can handle responsibility and commitment. You know why? Because blogging or creating content is sharing knowledge and experiences, bringing value and gaining trust to engage to your audience in your blog posts. Your only task is to create contents which must have importance and relevance to them. Now, can you do that?
"Whoah! Shaynne, stop right there! I thought it was easy and I can start a blog in an hour?"
OMG! We really don't like responsibilities and commitments, do we? Wait! Don't overthink. Now the second question is: "Why would you be blogging instead of just sitting and watching your favorite Netflix series on your free time?"
Your answer must drive you to do it. If it is not in a regular basis, just make it a hobby. Or is it your passion to write? Do you have tons of topics to share? As for me, a stay at home mom sometimes we have cravings for success linking the gap of our idle years to the current day that the kids have grown older, we would want to have a trophy of being a multi-tasker and starting a blog is the easiest destination while still doing our obligation as a mom.
Since, we totally mastered being the queen of the house-CHORES  and being responsible and committed to our duty as a mother, we can possibly ace this blogging thing for sure. In this present day, all the years of learning as a first-time mother to having 3 or more grown kids can create tons of content pages and successful Mommy Blogsite. Most moms actually do blogging because they can earn a decent amount of money while doing their first role, being a mom. That's what they drive them to do blogging. They have created a hobby which they can apply their creativeness and art skills to their work. Yes, they have created a self project which eventually help them earn money. I know you can do this, too. Every person have their own experiences and every mom is unique so don't be afraid in time you got lost out of topic to share, it would never happen.
I hope you answered positive to both of those questions and if not don't proceed to this challenge. You have to be ready before you start blogging. For me, I just wanted to have an outlet. I really like to share my ideas and experiences not just to my selective friends but also to inspire other moms and my fellow Filipinas out there that if I can, so they can, too.
Since you're done answering those 2 main questions, you probably assessed yourself on how far you're going to be a successful mom blogger and when can you start. Now, I'm ready to tell you the next steps on creating your own blog in an hour and the time starts now!
1. NAME YOUR BLOG (5 minutes)
Choose a catchy, short, and simple blog name. Make sure that it has relevance to your blog contents. Do not overthink on this step. Just make it simple and direct. Check out these websites of our fellow Mom bloggers: JustAGirlAndHerBlog.com and MoneySavingMom.com
2. SET UP YOUR BLOG (5 minutes)
Lots of platforms to use on creating your blogs, and yes, there are FREE to use platforms. They are easy to set up and navigate, you can start your own website in 30 minutes. If you don't have plans to monetize your blog, you can open a FREE blog site at WordPress.com or at Blogger.com.
If you're planning to monetize your blog, you need a self-hosted blog at WordPress.org.
You will have the ability to post sponsored contents, insert widgets to post advertisements, and you have the full control on your own website. Compare to WordPress.com, you can't add plugins to supercharge your blog and your site can be taken down at any time if you violate their Terms of Service. Yes, their names look similar, but the options and limitations that come with each one are very different.
When you decide to go for a self-hosted blog, purchase a domain name, sign up for hosting and install WordPress.
Try Bluehost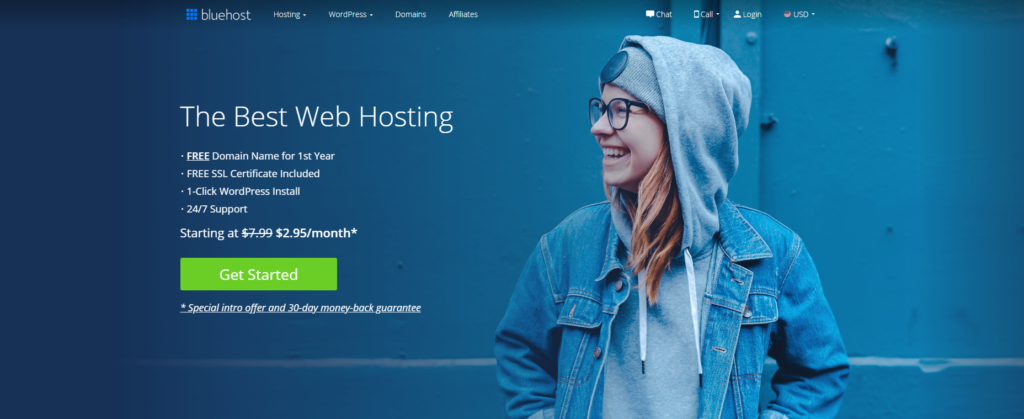 I recommend Bluehost as the best host for any new website. They have the easiest-to-navigate interface of any hosting company I've used, their US-based customer support team is knowledgeable and easy to reach, and their plans are CHEAP.
If for whatever reason, you're not satisfied, HostGator offers a 30-day money-back guarantee.
Or HostGator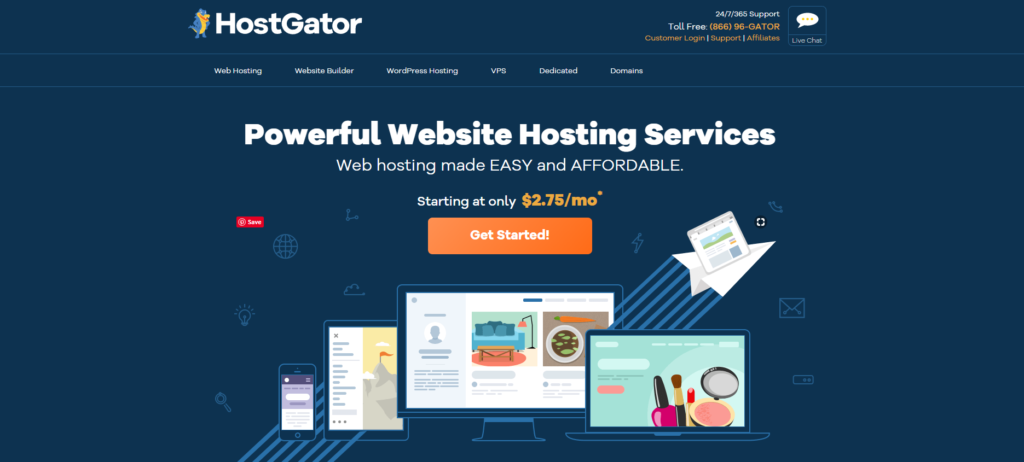 HostGator is easier to use and more beginner friendly as they include more features than Bluehost. You can begin building your website using their drag-and-drop Website Builder. If you're at the other end of the spectrum, you can enlist the help of HostGator's dedicated Migrations Team to transfer your website and configure it for optimal performance on their platform – for free.
If for whatever reason, you're not satisfied, HostGator offers a 45-day money-back guarantee.
After choosing and getting your website hosted either of these two powerful hosting companies, you install WordPress.
3. CUSTOMIZE YOUR WEBSITE (10 minutes)
Choose a theme. Make it simple and you can modify it when you started writing your contents. As long as your website is clean and easy to navigate it's fine. Unless, you're a little bit techy and knows how to code and stuffs like that. I am currently using the Hueman theme which has Nimble Plug in that I can use to easily customize my website.
4. INSTALL NECESSARY PLUG-INS (4 minutes)