Filipinos love to eat. One of the Filipino dishes prevalent throughout the Philippines is the Philippine Adobo. Historically, before Spaniards came, Filipinos cooked adobo pork or adobo chicken with vinegar, garlic, and salt. A clay pot is used to store it. It will not easily spoil because vinegar prevents the growth of bacteria.
As a famous quote says, "A key to a man's heart is through his stomach". If you're a beginner in cooking, Philippine adobo is a dish that can be easily prepared and cook for your man. Because the taste could be salty, sweet, sour, spicy or a combination of those, you could choose what yours will be.
Adobo ingredients in modern times are vinegar, garlic, soy sauce, whole or crushed peppercorns (paminta) and bay leaves (dahon ng laurel). Pork, beef, goat, fish, catfish, prawn, squid or vegetarian meat might substitute the popular adobo manok or chicken. It starts with marinating the chicken, for example, with soy sauce, crushed garlic, vinegar and peppercorns for several hours. This is the secret for a flavorful adobo manok.
What Makes Adobo so Popular?
This food uses local and inexpensive ingredients. Take vinegar, for example. You could buy it for a retail price for P8 only in a sari-sari store. Aside from vinegar, you could buy garlic, soy sauce, peppercorns and bay leaves in small amounts too.
Simple preparation and cooking procedures encourage little time and energy to use. If you're a working mom, you'll opt for a simple yet enjoyable meal for your family. It could only take at least an hour to cook. You could cook faster when you develop your cooking techniques.
Based on your liking, you could change the ingredients and its quantity. Different kinds of adobo share the same process—marinating and stewing the main ingredients. Almost every province has adobo version. If you're experimental, there's adobong baka at manok (beef and chicken) in Muslim provinces. You could also use other meats, seafood variants, vegetables, or fruits. Sugar, ginger, coconut milk, turmeric, or chili may be picked too. You could adjust the amount of ingredients depending on the taste you like.
You may use this on different occasions. Whether birthdays, parties or outings, this dish is acceptable.
Adobo doesn't spoil easily. Even when left under the sun during family bonding of swimming, inside a bag during camping or in a cauldron the whole day, you'll be sure that you could still eat it.
Here is the best chicken adobo recipe for you to try: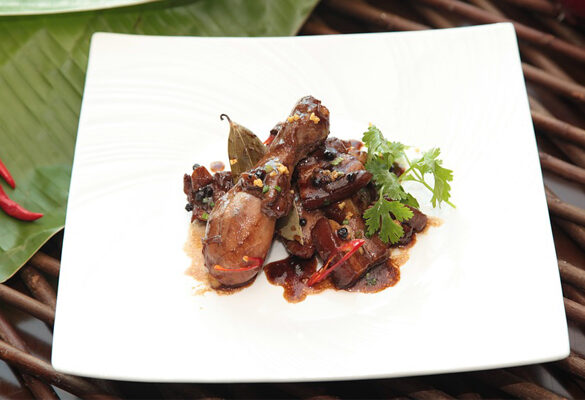 Ingredients
1-1/2 pounds chicken cut into portion pieces

1-1/2 pounds pork shoulder or belly, chopped into cubes

1/2 cup soy sauce

6 tablespoons white vinegar

3 pieces dried bay leaves

5 cloves crushed garlic

1 teaspoon whole peppercorn

2 teaspoon brown sugar

2 cups water

3 tablespoons cooking oil

1/4 teaspoon salt (optional)
Instructions
1. Put chicken, soy sauce, and garlic in a large bowl. Mix it. Marinate it at least an hour or overnight for best results. Do the same thing with your pork.
2. Bring a cooking pot into heat. Then, add cooking oil.
3. When the oil is hot enough, fry the marinated chicken for 2 minutes per side until brown.
4. Pour in the remaining marinade mixture. Add water then boil.
5. Add dried bay leaves and whole peppercorn. Simmer for 30 minutes or until the chicken gets tender.
6. Add the vinegar. Continuously stir and cook for 10 minutes.
7. Add the sugar and salt. Stir again and turn the heat off.
8. Serve hot with white rice. Dine happily with family.