Apart from eating local Philippine cuisine, Filipinos love to eat instant noodles. Its variety of flavors make it even more lovable for the Filipinos. From the original flavor, it evolve to flavors of our well known local food like bulalo, la paz batchoy, palabok and pancit bihon. There's also, sweet, sour and spicy or combination of those flavors. You have the option of buying it in a pouch or in a cup.
Instant noodles have become a staple food for most Filipinos since its affordable, available and convenient. You can purchase it not only from retail stores but also on sidewalk vendors and even on bus or train stations.
Besides, it becomes a part of family meals for quick and simple cooking. Because it can be easily cooked, it is commonly given as a relief good during calamities of flood and typhoon which often happens all year round in the country.
Instant Noodles Nutrition Facts
Although it's handy to eat, instant noodles can be bad for the health. Let us take a look on the instant noodles nutrition facts. The values below are based on one of the famous noodles in the Philippines.
Saturated Fat 6g (30% Daily Value)
Sodium 680 mg (28%)
Total Fat 12g (18%)
Total Carbohydrates 35g (12%)
Protein 6g (12%)
Fiber 2g
Sugar 3g (8%)
Iron (4%)
Basically, it has high saturated fat, high sodium and MSG or monosodium glutamate. High saturated fat is unhealthy dietary fat which can cause high blood pressure, high blood sugar levels and the risk of having diabetes, stroke and heart illnesses. Immense sodium or salt, can cause stomach cancer if eaten solely for 2 years. A Taiwanese boy died for such reason last 2018.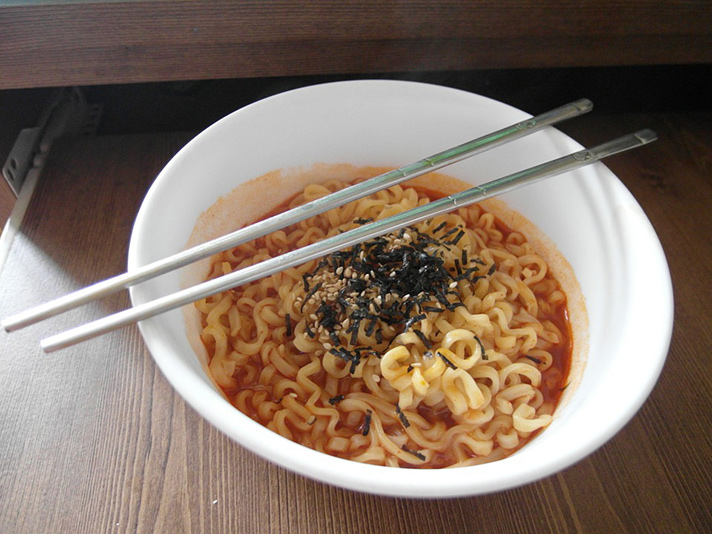 Health Risks of Instant Noodles
Instant noodle can trigger cancer cells in your body. On the other hand, MSG is a flavor enhancer of processed foods that gives umami taste. It's also naturally found in tomatoes and cheese.
Based on the information above, instant noodles has low percentage of nutrients – protein, fiber, minerals and vitamins. If these are always eaten by children, their nutrition might be in danger.
Nowadays, there's also instant ramen which mimic the flavors of the authentic Japanese ramen. These are preserved with Tertiary-butyl hydroquinone (TBHQ), a hard to digest petroleum-based product that too can be seen in pesticide products. It's synthetic per se. Manufacturers add TBHQ because it preserves the food longer. With this reason, instant noodles takes about 4 – 12 hours for your body to digest completely. Because of that, it is not advisable to have this for dinner.
Is Noodles Good for Diet?
Now, is it good for your diet? Yes given that it's not instant noodles. Instant noodles must be eaten in moderation, say once or twice a month. You could add vegetables like carrots, snap peas, cabbage and celery stalk to make it healthier and tastier to consume.
However, if you're going to cook pancit bihon, pancit miki, spaghetti, ramen or any noodle food, it is good for a weekly consumption. Why? Unlike instant noodles, this contain less preservatives.It is also slowly cooked along with other ingredients, with mostly veggies, making it safe for your family's health.
We Pinays love to multitask for the sake of our families. Knowing the bad side of frequent eating instant noodles should change our weekly menu. We must adjust our busy schedules in order for us to have more cooking time. You could also ask someone to do it for you. It will not only allow us to give more nutritious food for our family but we can also save money from medical expenses because they are healthy.
Hence, when you feel like cooking instant noodles often, just remember that eating fast cooked food means fast life or early death. Do you want that?