Since I migrated, I never detached from the kitchen wonders I have developed and learned from my parents back in the Philippines. Knowing that food plays a very vital role in a person's culture, it was important for me to keep and treasure dishes I know how to cook and share it with the community (the US) I am with now. It is also an ethical fashion for me to introduce the Philippine culture.
If you have heard of Adobo (probably one of the most popular Filipino dishes among the western people), I will not talk about that. This is about THAT other dish, which is equally delectable and famous in my homeland called Igado.
[bctt tweet="Which dish do you prefer; Adobo or Igado?" username="wonderpinays"]
There is no better way of explaining what Igado is but to say what the ingredients are of this exceptional viand. Igado is basically pork belly and pork liver based. Garlic, onion, bay leaves, black pepper, vinegar, soy sauce, bell pepper, green peas, and salt are spices for taste. Some versions may include pig's internal organs like the kidney, heart, and intestines. This dish will not be Igado if it does not have the primary ingredient, which is the pork liver. Just by looking at the ingredients, it would tell you that this dish is of protein benefit.
Read along the next part to know a little about the benefits of the liver when consumed appropriately and in proper amounts.
Health Benefits of Liver in Igado
Animal liver is rich in iron, copper, the B vitamins, and performed Vitamin A. It also has folic acid, iron, and zinc. According to research, not all foods can be termed as "superfood." The liver, conspicuously, is one of these "superfoods." The liver is involved in healthy brain function, keeps heart and kidneys work well, aids in turning food to energy, participates in cell growth and DNA formation, carries oxygen around the body, regulates energy production, iron metabolism, and brain function. To reiterate, the liver provides high-quality protein. Need I say more?
Cultural Significance of Igado
When we eat, our mind is only focused on and interested in how the food tastes. Little do we know that when we partake a certain food, it is like we are accepting the culture and history of the origin of the food. It builds cultural acceptance and understanding among people. That may sound overly sentimental, but it is a fundamental rule of cooking and eating. Have you ever found yourself wanting to go back to a place you've visited just because of a particular food that the place offers? No matter where you go, you cannot just get the right kick to satisfy your craving.
Igado is an Ilocano dish (from the northern part of the Philippines) that was greatly colonized by Spaniards. The food is influenced by these colonizers, who taught the natives the cooking technique of sautéing. Spaniards called it HIGADO, which means liver in Spanish. The natives must have misheard it as they started calling it Igado. Later on, it was widely accepted to be named Igado. Just imagine that we are preparing and cooking food that started way before, well, my great grandmother was born.
Moreover, the 6th President of the Philippines, who hails from Vigan, Ilocos, has a personal liking on this dish. He and his sibling were reported to be very fond of the food and – in their humble beginnings – always asked their mother to cook this for them.
As I mentioned earlier, Igado doesn't just come with just the meat and liver. It can also be mixed with veggies. Bell peppers and green peas are the best ones to go with it, adding colors to the dish. To some, they add potatoes and carrots, too!
Anyway, I know it's driving one hungry already, so here's how it's done.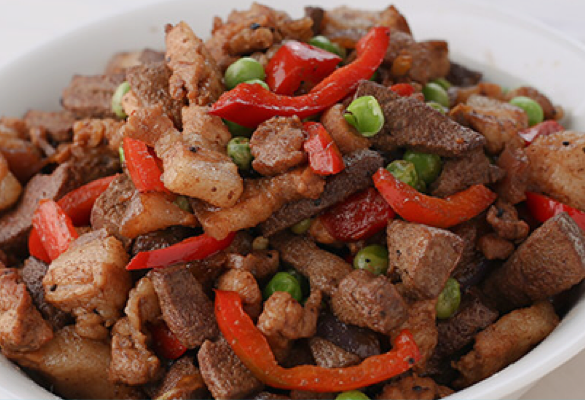 Ingredients
1 kilo pork tenderloin or pork belly, separate the fat from the meat and slice the meat into half inch strips.

1/2 kilo liver, sliced into half inch strips

Whole bulb of garlic, peeled and chopped

Medium sized onion, peeled and thinly sliced

3 bay leaves

A teaspoon of ground black pepper

Red bell pepper, slice to strips

Green peas, either the frozen one or the canned one

1/2 cup soy sauce

1/4 cup vinegar

Cooking oil

Water
Instructions
Procedure:
On a bowl, put in the meat and mix it with the soy sauce, vinegar, and the ground black pepper. Best is to let the mix sit for 15-20 minutes to marinate.
On a cooking pan, pour in the cooking oil.
Sauté the onion and the garlic until it changes color. Keep in mind that you do not need to burn the onions as it will result to be bitter
Add in the separated fats and sauté for a minute and a half.
Then add the marinated meat into the cooking pan.
Add a little bit of water.
Simmer until tender in medium fire.
When it is starting to render oil, add the liver.
Wait until the liver is cooked, for 2-3 minutes.
After that, add in the bell pepper and the green peas.
Do not overcook the bell pepper, maintain its crispiness. Cook it in just under a minute and a half.
Add salt to taste.
Serve with rice.
Last note
From natives, locals, former presidents, and typical household families, Igado is undoubtedly serving its rightful purpose. I tried to serve this in one of our parties at home, and my American friends cannot help but ask about the food and how to cook it. They constantly seek the dish and implores me to prepare for them when I get visits. There are tons of recipes for Igado on the internet. There are modern and innovative ways to cook it as well. Personally, I suggest you start with the original and conventional way and taste it for yourself.