I recently had my doctor's appointment for my routinary check up. There are quite reminders that she asserted and she emphasized on my weight and having high sugar.
(Note: This article is not about medical advice.)
I think I really need to make a very wise decision on my health considering I'm getting older and I observed that I am indeed having a massive change on my weight. I love to eat cereal and oatmeal in the morning since it is easy to prepare and I think the healthiest food I could grab in our pantry for breakfast. I am using my 2-year old daughter's whole milk on the fridge and sometimes I drink 2 to 3 glasses a day instead of putting on my cereal because I thought it is healthy. On the contrary, I have read in an article from Peta.org about what cow's milk does our body bad.
So I asked master Google for best milk alternatives, Soy Milk ranked as number 1. This reminded me of a Filipino staple snack made from tofu (bean curd based) when I was back in my motherland.  
I remember when I was a kid, I usually go outside early in the morning, waiting for "Mamang Magtataho" (Taho Vendor) because I badly wanted to have a cup of my favorite breakfast. Heedless about going to school, all of a sudden I will get a scold or not, get my hair pulled by my grandmother, a short funny moment. Oh, I miss my Grandma.
Anyways, this article is actually to give you the health benefits and give an overview preparation of Taho. This will help you better understand why Taho is a good alternative for dairy milk.
Ingredients of Taho
Taho is made of silken tofu (soybeans), arnibal (caramelized brown sugar and water) for flavoring, and sago (mini tapioca pearls).  Basically, it is soybean. It is best served warm and is usually consumed by Filipinos early in the morning or as a snack in the afternoon.  It has been in the Philippines for a long time now. Up to this point of writing, it still listed as one of the staple food of the country.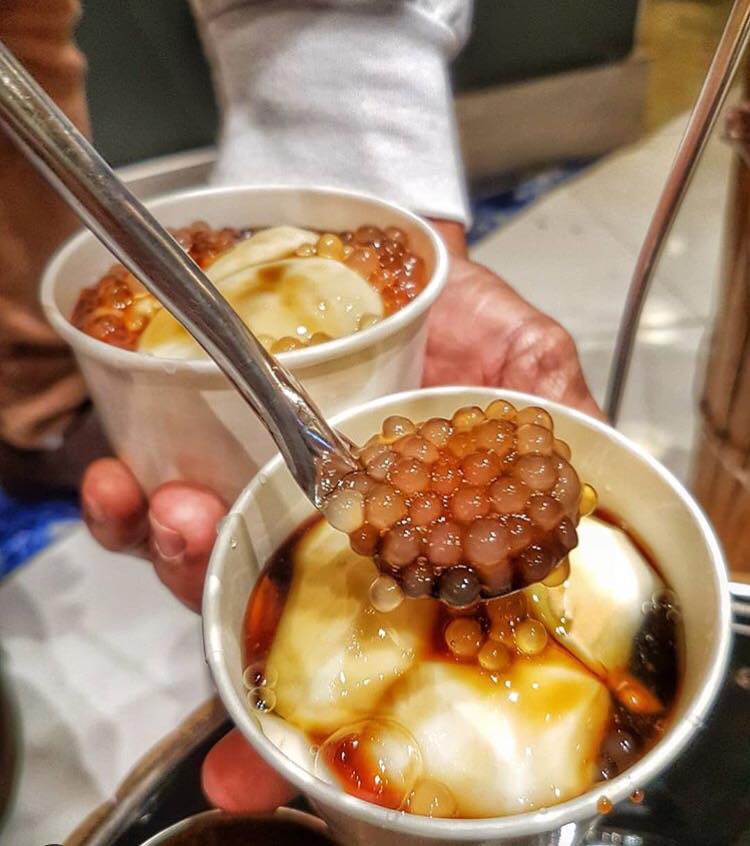 Benefits of Taho
The list below shows the major health benefits of Taho.
Low Calories – Taho is definitely low in calories compared to cow's milk.
High in Plant-based Protein – For obvious reasons, protein is an essential need for growing children.  Taho has lots of that. The protein content of a 100g is almost 50%!
Good source of iron – iron is a good supplement and it strengthens our immune system.
Calcium – Calcium is much needed by growing kids.  This strengthens their bones, teeth, heart, and muscles.  We think that calcium comes from dairy milk only. Well, we are wrong; it comes from cheese and soybeans too.
Rich in flavonoids and isoflavonoids – These components are the basic reason why fruits and vegetables are good for you.  Flavonoids have antihistamine, antimicrobial, and memory and mood enhancing properties. They also reduce the risk of cancer and heart disease.
Polysaturated fats – You may be thinking that Taho has fewer fats compared to dairy milk.  Yes. Indeed. But it is high of healthy fats in the form of polysaturated and monostaurated fats.
If you are interested in the health benefits, you may further search "health benefits of tofu or soybeans".
How to make Taho
Since I am now residing in the US, I have no other choice but to try to imitate the way Taho is made in my home country.  This is a general overview of how Taho is made. You will be surprised at how easy to make it.
First.  Boil the tapioca pearls following the instructions in the package. Make sure that they do not clump together when you put them aside.
Second. Mix water, brown sugar, and vanilla (according to your taste) in a pot.  Bring to boil then simmer. Set aside.
Third. Steam tofu for 10 to 15 minutes or until they are silky.  Scoop portions into a cup. Top the tapioca pearls then add the arnibal (brown caramelized syrup).  Remember that this is best served warm.
To warp up
I do not only have a healthy alternative for dairy cow's milk, but I also have a snack that brings lots of wonderful memories back when I was young.  I shared this to my family and friends and it is now a common household snack in their houses. You might want to try to make yours and see the upshots in your child's health.