For Filipinos, eating pinakbet is one vegetable dish that wouldn't be out of the list whether it is just home-cooked food or in restaurant menus.
Pinakbet also called as pakbet is a popular and indigenous food from the northern part of the Philippines. The word pinakbet comes from the word "pinakebbet" meaning to shrink because the vegetables wrinkle when thrown into the mix. This food is quite interesting since it is a mixture of different vegetables with some meat or shrimp on it. It is made tastier with the use of alamang or bagoong.
I grew up with my grandparents and my grandmother used to cook this when I was a kid, I am not really into eating vegetables, but I guess I didn't have any choice. My grandmother never stops cooking pinakbet in different versions sometimes with the use of alamang (shrimp paste) or fish sauce or bagoong (fermented fish). From that day on, I enjoyed eating it and I realized how important vegetables are. Now as a mother I make it a point to cook it for my family at least once a month.
Benefits of Pinakbet
Vegetables can be very healthy for the body.
The vegetables that are used for pinakbet are squash, bitter gourd, okra, string beans, and eggplant. Squash is very rich in vitamin A, B6 and C, and other minerals. It also helps strengthen your bones. Bitter gourd is one of the vegetables that most people are hesitant to eat because of its bitter taste, but it is actually very good for our body. It strengthens our immune system and boosts skin health and has some anti-aging properties. Okra, on the other hand, has low calorie and has dietary fiber. Eggplant also helps in lowering blood pressure, contains fiber and potassium. Your string beans have a lot of vitamins and minerals too.
These vegetables can be home-grown or if not you can buy it at the asian market here in the US.
You can have it at a very cheap price. There are also mixed and cut vegetables is which can already serve up to 5-6 people and it is ready to cook.
Different Versions on How to Cook Pinakbet
Ilocano pakbet
Pinakbet originated from Ilocos. They usually use bitter gourd, okra, string beans, and eggplant in making this dish. For best results, people cook it in a pot (palayok) and add some fermented fish (bagoong isda) to make it tastier. What I observe from their pakbet is that they also use ginger to make it tastier. Ilocos is also known for its Bagnet (crispy fried pork belly). Some people mix the bagnet to the pinakbet for a more delicious meal. If you don't have any bagnet you can also use chicharon.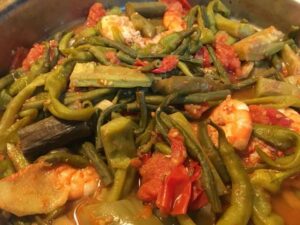 Pakbet Tagalog
The dish became more famous that different places got a version of their own pakbet. In the National Capital Region and some nearby places, they added squash in the dish and instead of using fermented fish they use alamang(shrimp paste) to make the dish flavorful.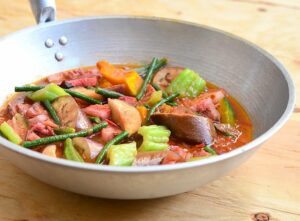 Kapampangan Pinakbet
It also consists of almost the same vegetables as the Ilocos Pinakbet, the only difference is that they use tomato sauce, 7-up(lemonade drink), teaspoons of beer and annatto oil(atsuete) in making their pinakbet.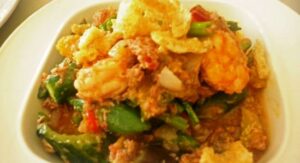 Many people got their own versions of pinakbet. Some would add mushrooms; others would use fish sauce since it is the only available in their place. For others, they prefer that their pinakbet is dry but for others, they would like it to be a little bit watery. It actually depends upon you on how you can make your own Pinakbet at home. As long as you don't forget your rice to go with it (