Once every so often, I crave for street food like isaw.
At first, I find it disgusting because…
*promise me you won't say "EEEWW"
***drum roll***
It is a 'Chicken Intestine'.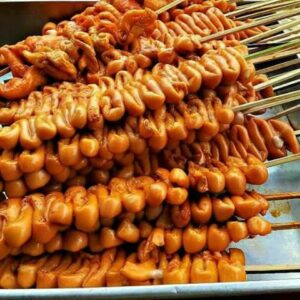 Isaw is a grilled chicken intestine and usually, it is served with a mixture of vinegar, onion, chili pepper, and garlic.
I remember when I was still in high school. My school is near the University Belt, at the back of San Sebastian College in Recto, Manila. If you are familiar with the place, it is swarmed with students from all the universities around. And where there are lots of people, there also lots of small businesses in the area. Not to mention those barbeque vendors on the sidewalks, ugh, it feels like yesterday. Anyway, the vendors' barbecue late in the afternoon and you can see the queue as they wait for their isaw to be grilled. Long line, but still you know you will not regret after the long wait.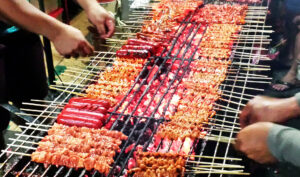 I must admit that this is blockbuster but other people who have no idea about it would think that this is crazy.
People might ask me after this post:
"What's so great about isaw?"
— Well, it is cheap and it tastes good.
"Sure, it's cheap and tasty but is it clean?"
— Can chicken intestines get thoroughly cleaned inside and out?
For sure it's not gonna be totally clean when they are sold in the sidewalks especially if those vendors don't have a permit or are illegal, you don't have any assurance. Well, I am talking about 15 years ago. Luckily, as of today, when you stroll in the sidewalks in any place in Manila, you won't see any illegal or sidewalk vendors anymore. Thanks to the good governance of the said city.
Frankly speaking, one would never appreciate the taste of food just by looking at it. It may look gross for some while appetizing to others. As regards to my taste buds, whenever I see a photo of it on my social media timeline, I kinda drool. The last time I ate one was when we went to "Island Pacific" in Fresno, Califonia. They sell Filipino street barbeque every Sunday but that was 5 months ago and I don't think we would be traveling 4 hours long just to buy and eat "ISAW". Even if you can buy alive whole chicken, you can only get one stick of its intestine.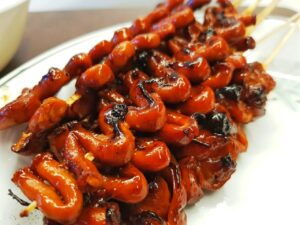 I'm really craving for Isaw ng manok. Favorably to me and to others who live by the Bay Area, I just googled, right before I write this article. I saw the nearest place to satisfy my/our cravings. Let's go to "Toto's Grill" this weekend! It is just an hour away from our home and finally, I can satisfy my palate.