There's no questioning the Filipino faith.
Boasting as the only Christian country in the Asian continent, the Philippines finds itself as a tourist destination during the Lenten season. It attracts both local and international tourists that either come and observe the Lenten traditions because of their own faith or a viral video they have seen from their local news broadcast.
From loud festivals to serene retreats, here are the five Filipino Lenten activities that still attract the world:
1. The Epic Moriones Festival in Marinduque
If you are looking for a Lenten activity that starts as early as Monday of Holy Week, look no further than the southern Philippine island of Luzon- Marinduque. The Moriones is an annual rite where locals dress as Roman Soldiers following the Bible interpretation. The men and women of Marinduque wear masks called 'morion' that coincide with the Passion of The Christ.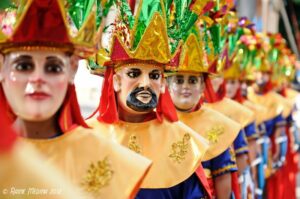 During this time, the streets of Marinduque become a grand stage of reenactment. It follows the folk-religious story of Saint Longinus, a Roman soldier who has said to have converted to Christianity after The Crucifixion of Christ.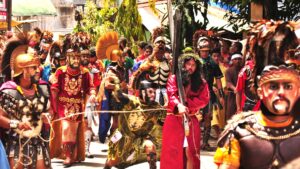 2. Visita Iglesia and The Philippine Churches
It's not a secret that during and after Spanish colonization, Philippines became a womb to give birth to many churches. Some of these churches are even hailed as Cultural World Heritage by UNESCO.
Because of this, Visita Iglesia is a constant Lenten rite that never falters. It's the traditional Filipino spin of Seven Churches Visitation where Filipinos would visit seven or more Churches to pray and recite the Stations of Cross.
In 2010, Filipinos have incorporated a fitness twist in the famed tradition called "Bisikleta Iglesia" where locals ride a bike instead of usual public transportation to cover the churches.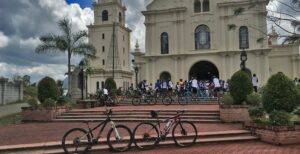 3. Penance in Pilgrimages and Retreats
The Filipino people have more Lenten activities on the list than anybody could guess. While some traditions are still observed ever since Christianity has graced the archipelago, more and more religious journeys have been created.
Pilgrimages have enjoyed fame over the years. Most of the pilgrim sites are located in Philippine Mountains. Thus, these holy expeditions include retreats in many sacred places where a religious landmark is reached after hours of trekking. Some famous pilgrim sites include:

Regina Rica in Tanay Rizal
Banal na Bunduk Dalan Ning Krus in Mt. Arayat
Tatlong Krus in Paete, Laguna
The Redeemer's Cross in Bani, Pangasinan
4. The Bloody Passion Plays
While Marinduque's Moriones Festival takes the spotlight for putting a festive tone in a rather tragic story, most Philippine provinces decide to keep the melancholy and even shed blood for the sake of repentance.
Known as the 'Senakulo,' Filipinos would point you to go to Mexico, Pampanga, and Dinalupihan, Bataan to look for people who are getting nailed literally on their hands to reenact the Crucifixion of Christ as realistic as possible. The Senakulo has attracted worldwide controversy for its gore but the belief of redeeming oneself of sins has kept the tradition alive.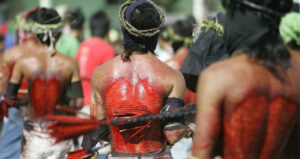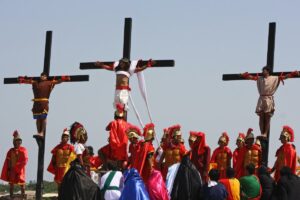 5. Salubong and Joyous Easter Egg Hunting
Undeniably the most heartwarming day of the week, the Resurrection of Christ during Easter Sunday has been celebrated in both tradition and commercial ways. Devout Christians will wake up early morning to attend their local Church's 'Salubong'. It's an elaborate production that involves children in angel wings and costume singing and dancing from a tower.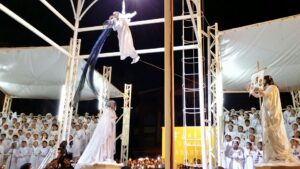 In a more commercial setting, local government and supermalls have used this day to commence an Easter egg hunting for children. Derived from American culture, Filipinos tend to celebrate Easter Sunday as an additional fun activity while the family gathers together for lunch or dinner after the church mass.
TRIVIA: Do you know that Easter Egg Hunt is actually celebrating the arrival of spring, and return of fertility? The tradition came from the Pagans, they would 'hunt for eggs' to eat. The Easter Bunny' was originally the 'Easter Hare' (due to the multiple births) and they would celebrate' fertility' with symbols such as lambs and chicks. Pretty interesting, right?