When in Ilocos, do as the Ilocanos do, which, for the most part means eating heavily. At any given time of the day, Ilocanos are likely to be nibbling at a snack or heaving feast.
Sometimes, if a visitor is lucky, he or she gets invited to a "padaya", a generic term for a festive party where celebrants pull out all stops and serve Ilocano food in all its abundance and glory. Among the most popular dishes are "pinapaitan" and "pinakbet". There are also empanada, longganisa and bagnet.
But today, I'd like to feature a more underrated and probably not everyone's favorite noodle dish, the Hi-bol.
Please, don't cringe. I'm here to explain this.
According to different recipe sites, Hi-Bol (Ilocano Beef Mami) is a paksiw miki noodle soup or native beef tripe soup, with beef innards soured with Ilocos cane vinegar and mildly flavored with extracted juice from a cow's chyme-
Curious what cow's chyme is? It is the pulpy acidic fluid which passes from the stomach to the small intestine, consisting of gastric juices and partly digested food), a sort of 'papaitan' with pre-poop as flavoring.
Sounds like the worst stoner food ever? Are you still with me?
Good.
If you need a 'kinda' close comparison. It is almost like mami or batchoy but the taste is different than batchoy. The soup looks greenish in color because of the mentioned ingredient papaitan. It tastes so so good, and much even better if you add the sukang Ilocos and red chilis to make the soup hot and spicy.
Of course, originated from Ilocos! Waiving the flag here!
Many would say Hi-bol was born sometime in the 80s.
The name hi-bol is coined from the word "high-voltage". It means extremely good when used in reference to moods in food. But why hi-bol and not hi-vol?
Because Ilocanos doesn't use letter "V" in their native alphabet.
When it comes to cooking, you'll be surprised how easy it is after listening to the ingredients and its rather unique descriptions. Cooking is just a simpler devil.
*RECIPE COURTESY OF MISS APRILL LYN CALANTES COLOMA. PHOTOGRAPHED BY BLAUEARTH
Hi-Bol Recipe (makes 4 servings )
INGREDIENTS:
For Paksiw
1/2 kilo beef with laman-loob (tripe, intestines, liver, heart, pancreas, lib-libro, tuwalya andblood )
1 tbsp chopped ginger
3 cloves garlic, lightly pounded
3 tbsp sukang Iloco
2 tbsp papaitan (bile)

1 and 1/2 tbsp salt, or you can alter to suit your taste
a pinch of paminta (ground pepper corns) 

1 and 1/2 liters water
thinly sliced lasona (spring onion)
half kilo lusay or fresh cooked noodles
Cooking Steps:
First, you must prepare all ingredients. Next, Cut beef across the grain into 1/8″ slices, then set aside.
You can go on and sauté ginger and garlic until golden brown, then add the beef until the meat fats turn into grease. Add in papaitan and sauté for another 3 minutes.
Now, you can add water and heat through until beef is tender.
Drain noodles with hot water and put into individual bowls, preferably Chinese-style. Add paksiw and garnish with "lasona" or spring onions!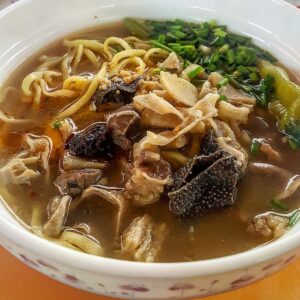 Well, writing that made it really hard not to crave and be sorry for myself knowing I am currently not in my hometown!
I can probably say that hi-bol is not something the Ilocandia is famous for, of course, the pakbet is still the reigning dish but I'll be surprised if such a ridiculous-sounding dish ever got out of the confines of Laoag City.
As a Pinay in the US, the clearest memory I could remember of ever tasting an authentic, hundred percent- Ilocano made Hi-bol is during somebody's birthday. Yes, we serve these on birthday too!
I did not miss my chance to taste an authentic Hi-bol. I was expecting a more 'exotic' flavored dish but it wasn't. The broth is clear and clean. It has sour and bitter notes that play beautifully with its beefy and gingery flavors. They even topped it with chopped cabbages and carrots for crunch. The paksiw compliments the wonderfully cooked miki.
All this text will probably not equate the hunger I am feeling right now to your imagination.
There are tons of videos of this on Youtube and hey, if you ever visit Ilocos Norte, I urge you to experiment more than the empanada, bagnet and longganisa.
The North has unique and culture-centered gastronomy. You'll be surprised.