Blessed with rich natural resources, Philippines and it's known or hidden paradise has always been on the bucket list of every backpacker.
Now that summer is officially here, below are some ideas where to go whether you prefer to chill or go on a discovery of what the Philippines has to offer:
1. The Coldest of Them Cities
What do Baguio City, Mountain Province's Sagada and Tagaytay have in common? They are all seemed to be unfazed of the summer season.
Dubbed as the Summer Capital of the Philippines, Baguio City has been the go-to destination for both local and international tourists seeking a cold sanctuary in the hottest of days. The city's natural cold comes from its geographic location being situated in mountainous terrain.
On the other hand, a few hours from Baguio will take you to an even more elevated altitude- Mountain Province's Sagada. It's famous among millennials as the place where broken hearts go taking a page out of a movie called 'That Thing Called Tadhana'. Aside from cheesy sentiments, it's already famed for its unique tourist attractions such as the hanging coffins, a traditional way of burying people that are still well and alive today.
The easiest escape from the bustling metropolis goes to the city of Cavite, Tagaytay. While it's not as cold as the above-mentioned places, its cold breeze comes from a higher elevation, constant rainfalls and stronger winds. Its majestic view of Taal Lake and Taal Volcano in Batangas has become its popular tourist attraction.

2. Vitamin Seas, Pristine Beaches
Whether you are looking to smother your skin with the white sand or you just want to become one with the sea, Philippines has an entire catalogue of pristine beaches from the world-renowned ones to the hidden gems.
Constantly making the Top 10 lists and being cited as one of the best islands in the world, El Nido, Palawan tops the list of best beaches and has continued to amaze first-time seekers of the said beach. In case you missed the CNN statistics, it has and quote: "50 white sand beaches on the island, five types of forest, three major marine habitats, and many different species of birds."
In the island of Aklan, Boracay could probably reclaim its throne for having the whitest of sand beaches after its Government rehabilitation. With a new set of strict rules, Boracay has reopened and the reviews about the total revamp and preservation are off the roofs!
Oriental Mindoro houses another body of water that has been under UNESCO's protection since 1973. Puerto Galera is one of the best and most diverse diving sites in Asia. Those underwater experiences shouldn't be a dream anymore as this beach offers more than just relaxation but snorkeling and sailing.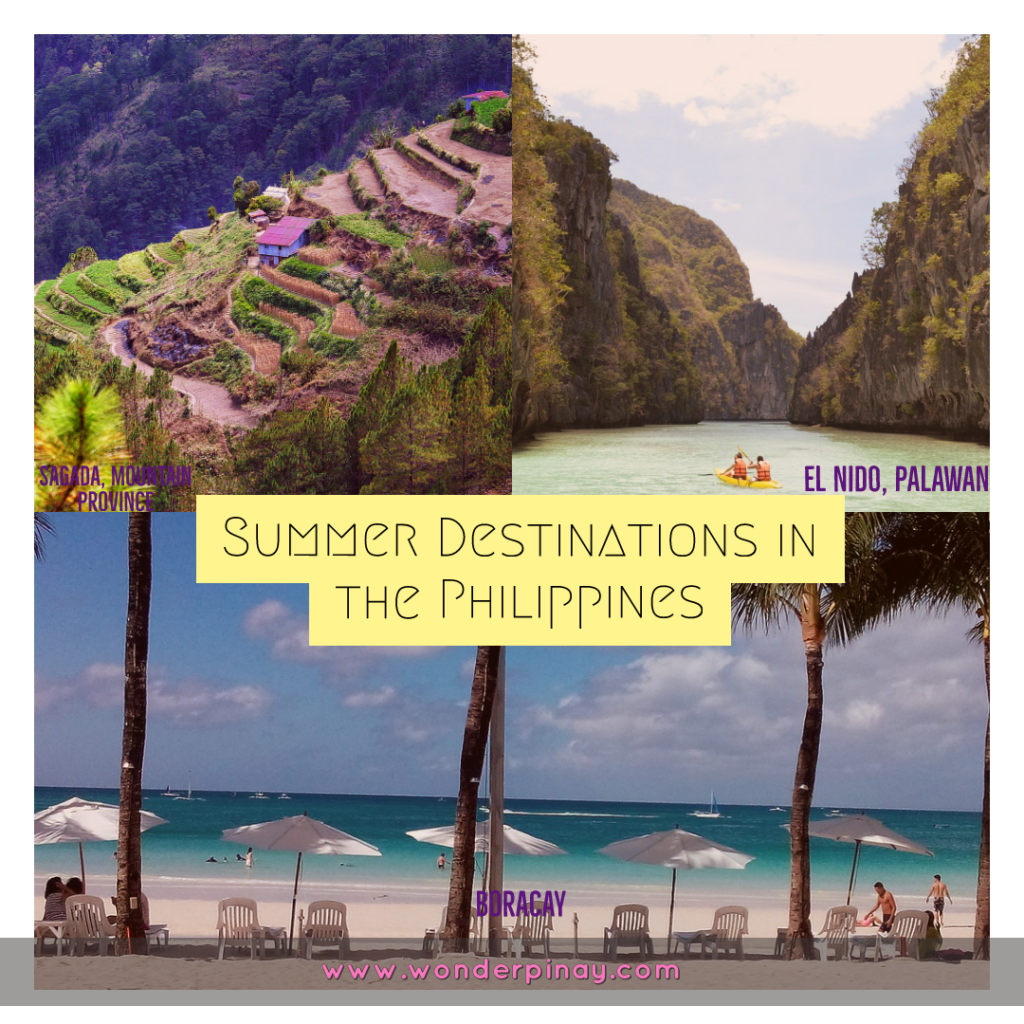 3. The Underrated and Undiscovered
Philippines, being an archipelago is an unending gift to everyone. You will be surprised that a local town has suddenly become the latest news headline because of a newly discovered body of water.
There are non-Beaches and non-Baguio City places you can visit. For example, the Abra Falls. Unique is an understatement to describe the wonder of Kaparkan Falls in Abra. Known for its rock terraces, the spring falls does its magic and will constantly leave you in awe.
On the other hand, the secret lagoons of Pandan, Catanduanes will make you really wonder what else is there when you are traveling in the Philippines for a summer getaway. Named as the Tuwad-Tuwadan Blue Lagoon, it is a stream of beauty behind jagged cliffs that protects several marine life like the tuwad-tuwad (small snails).