Alden Richards, dubbed as Asia's Multimedia Superstar and recently hailed as the Philippines' New Box Office King is paired with Miss Eco International 2017 Thia Thomalla in GMA's upcoming series "The Gift".
While every fan is going gaga about Alden's newest project, we can't help but be curious about his leading lady. Some would even ask why her of all GMA's loop of talents. Well, who wouldn't when it's Alden Richards we're talking about, right? But, also – why not?
So for today, we have gathered a few facts about our former beauty queen who happens to be one of GMA's rising stars. Read on and see for yourself:
1. She's a Leytena.
Cynthia "Thia" Magpatoc Thomalla is a 24-year-old Pinay-German. She was born on February 25, 1995, and is from Macrohon, Southern Leyte. She took up Tourism at the STI Maasin, Southern Leyte.
2. She conquered Cebu's Sinulog Festival.
In 2016, Thia bagged the Sinulog Festival Queen title when she represented Tribu Himag-ulaw. Apart from the said title, she won most of the Festival's Special Awards as follows: Miss Photogenic, Miss Kokuryo Cosmetics, Miss OLX Philippines, Miss Yamaha Rev Queen, Miss Lecit-E and Best in Group Production Presentation. Indeed a stunner!
3. She ruled in the national pageantry stint.
Thia successfully continued to prove her beauty, charm, and wit when she got the Miss World Philippines title and made her qualify for an international pageant. Now, who wouldn't be proud?
4. She wowed the international pageant crowd.
Moving forward with such grace and confidence, she clinched the Miss Eco International crown in Cairo, Egypt held on April 2017 thus making her the very first Pinay to win the said title. She definitely made the whole Philippines proud!
5. She made her way to the showbiz industry.
She signed up as a Kapuso with of course GMA Network in September 2018. Along with Wynwyn Marquez and Michelle Dee, she hosted Glam Up – a Lifestyle Show under GMA Public Affairs. Her first movie, on the other hand, was "Ang Henerasyong Sumuko sa Love" under Regal Films.
6. Her charm is captivating.
Thia has defined the beauty that even nature is unable to resist not just during her reign as Miss Eco International 2017 but having been complimented as the Anne Hathaway of the Philippines as her resemblance with the Hollywood celebrity is indeed evident.
7. She knows what she wants and works hard for it.
As she looks forward to a brighter career in acting, she diligently takes attending workshops seriously. Our stunner is definitely determined to create a name for herself apart from having proven her worth in pageantry.
8. She has a striking resemblance to Anne Hathaway.
Well, there's no need to elaborate on this because merely looking at Thia will definitely remind you of "Princess Diairies" star, Anne Hathaway.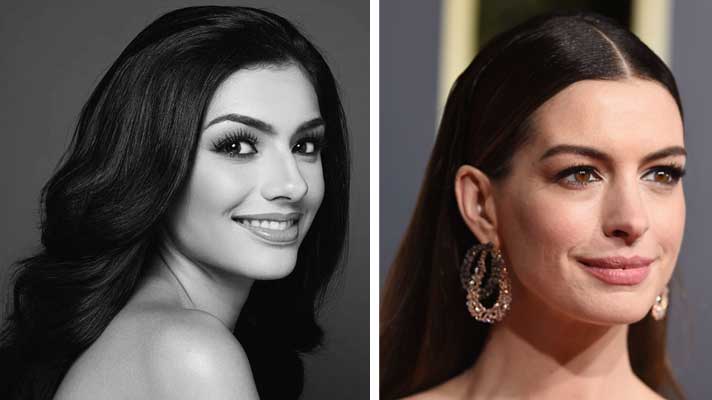 While the showbiz limelight continues to shine down on her, Thia cannot hide the pressure she feels but promises to make the best out of the opportunities she is given particularly her now biggest break – "The Gift." Apart from Alden Richards, she is set to work with a couple of GMA's best – Jean Garcia, Mikee Quintos, Jo Berry, Rochelle Pangilinan, and Ysabel Ortega.
For sure, your question as to why she has been chosen as Alden's leading lady has already been answered. It's a well-deserved opportunity for her, isn't it? She's one of those living proofs that there's more to a beauty queen than ruling the stage and capturing hearts with their wit. They can be actresses too!
Pinays out there, especially the Leytenas are certainly proud to see another talent grow and prove her worth. Indeed she is another Wonder Pinay!