There are many items that people can sell on eBay, especially that in Ebay's platform, you can sell used items, collectibles, or any brand new item.
Here are the top trending items that you can sell:
1. Electronic Gadgets
Smartphones
Every year, phone companies are bringing out the latest and most updated smartphones, whether it is an Apple brand, Samsung, Huawei, and the others. People, especially the younger ones, do not want to go out of trend, so they are the target market for this. It gives them more advantage since the latest phones can act like a real computer or a professional camera.
Wireless chargers
Most of the latest smartphones that are released can already be charged wirelessly. It is very convenient and neat to look at. It has the advantage of reducing the wear and tear of cables.
Smart Watch
It has been a trend that people will have this smartwatch. It is not only a simple watch, but it can be connected to your smartphones via Bluetooth. Some have a built-in camera, while others have a call and message receiver. Most runners also use it since it shows their step and pulse count. Another advantage is it is already waterproof. It can also be worn every day just like any other watch.
2. Apparels
Shapewear
This undergarment has been a hit to most of the women for two years in a row. It isn't just an undergarment now, but everyday wear. It gives women different styles to use. For instance, it can be used under some clothes or can be worn as a top. Customers can find these in different colors, styles, and sizes to meet their needs. It is also an advantage for the seller since it can be categorized or listed under lingerie, women's fashion, or apparel.
Athleisure
Athleisure is best described as activewear worn as an everyday look rather than athletic purposes. It gives customers a comfortable and sporty look. This includes sweatshirts, sweatpants, leggings, tank tops, shoes, sports bra and headbands in different sizes, and colors.
3. Car Accessories
Car phone holder
This makes the life of drivers a little bit easy. It holds their phone in place while they are driving, decreasing the risk of accidents. It makes it easy for them to make or answer calls.
Charging cables for mobile devices
It ensures the customer that she/he will have sufficient battery for his/her phones wherever he/she goes.
4. Health and Beauty
Portable Blender
A lot of people nowadays are quite body-conscious and tries their best to be healthy and fit. With this portable blender, they can make their juice from fresh fruits and vegetables. It suits people who are busy since it is convenient and easy to use.
Urban Decay x Game of Thrones
Due to the release of the last season of the TV series "Game of Thrones," a lot of collectibles and items are up for sale on eBay. One of the trending things is the URBAN DECAY x GAME OF THRONES. This beauty brand released a GOT- themed collection which includes eye shadows, highlighters, lipsticks, and brushes. This item will surely hit the market, since a lot of women, and teenagers are into making themselves beautiful. An extra advantage is you can buy it with your favorite GOT theme.
5. Baby products
Diapers
Babies are born daily, and every baby needs a diaper. It will be very convenient for moms to shop for diapers online due to their busy life of taking care of their babies.  Undoubtedly, diapers will never get old when it comes to its demand as we project to see a growth in population over the years. That is why baby products are one of the best items to sell on ebay.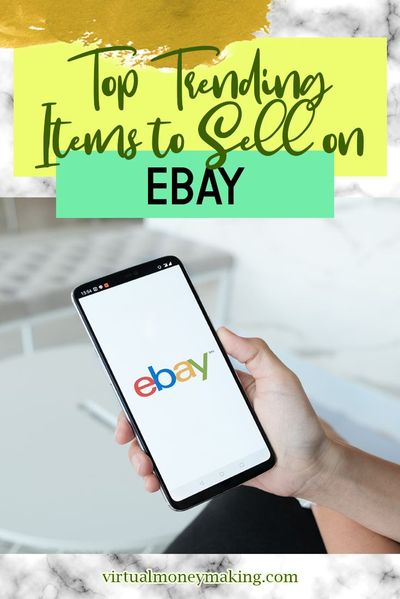 The form you have selected does not exist.