Maria on Netflix: The Rise of a Female Action Star
The Philippine movie industry seldom comes up with a good action movie. But how do we determine a good Philippine action movie in the first place? The story or plot should be well written. There should be a smooth flow of the story so that the audience will understand what the movie is all about. The actors or actresses should embrace their character. Their actions should be believable; beyond convincing, so that the audience will have their full attention into it.
Netflix has acquired the right to Philippines action film Maria. This movie is centered on a female assassin (played by Cristine Reyes) who went against all odds to fake her death so that she can be freed from the claws of the cartel. The story is somehow basic; a woman who wants to live a normal civilian life together with her husband and an adorable daughter. Of course, nobody really escapes from their past. So her past catches up with her and her husband and daughter was killed. Suffering the sudden loss of her family, she goes back into action and plots her revenge.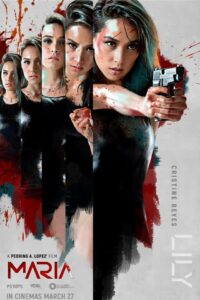 Cristine Reyes, having bagged the lead role, had to undergo martial arts training. If the character asks for it, then do your part so that at least your actions would come up as natural as possible. I would say that most of the fight sequences in the movie are quite convincing. Her movements and that of her opponents in the movie were well choreographed and the result was quite amazing. It was so real that viewers were on the edge of their seats. This is proof that Philippine action movie is improving.
I must say though that the writers still have a lot to improve on. The plot was somehow predictable. It was a good effort, nonetheless, but it could have been written better. Pedring Lopez, director of the film, is sturdy but not unexceptional. His craft is a work in progress.
The cinematography of the film is impressive, to say the least. The overall review for this film is positive. Viewers have their own taste and this creates biases. I for one, find this film watchable. Watchable in the sense that I can leave it playing on the dragging part, while I go to the kitchen and put a popcorn bag in the microwave oven. It is not the likes of "John Wick" where every second matter.
Philippine filmmakers are venturing into a wider horizon. They want to give movie viewers something worth their time. Gone are the days when all action movies are dominated by men and women are portrayed as helpless damsels in distress. "Maria" is refreshing and entertaining. As a matter of fact, this movie might just have catapulted a Filipino actress to international fame (or to that effect). The movie is a clear example of the Philippine movie industry willing to take risks. Making action movies is not our strongest suit but by taking risks, Philippine filmmakers are opening doors to new opportunities. This can also be an avenue to learn something new and exciting in this industry.
The Philippines film industry has been providing its viewers worldwide with movies that captivate their interests. The film "Maria" is one of a kind. It may not pass for a five-star action film, but it sure can land a three-star rating. It is a movie worth watching, definitely. Netflix picked up the rights to this movie, this means a lot and I am proud as a Pinay. With subscribers from all over the world, "Maria" has a big chance to show the world that Filipinos are talented film artists. 
Watch the trailer.